Your Song as a T-Shirt Design.
Music accompanies us throughout our lives. Songs represent moods, special moments of our lives and our very own personality. Sounds Like Cotton creates T-Shirt Designs that are based on the unique sound of these songs. This Website creates pieces of generative art by analysing the volume of the sound files or their frequency distribution. All you need is an MP3 file.
Shirts with a clear conscience.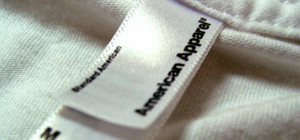 We print on Shirts by American Apaparel. For years, this label stands for high quality products, which are produced under fair working conditions. American Apparel says "no" to starvation wages, and "yes" to a sustainable and environmentally friendly production, which takes place entirely in the USA.